(REFERENCES:)
BUILDING INFORMATION
DRONE INFORMATION
-----
Probe 7 Wrote:*BLEEP BLEEP*
INCOMING TRANSMISSION from PROBE 07
ASTEROID BM-720861i-809:


CONGRATULATIONS! Your bid (
#1703
) in the Galactic Frontiers Project has been accepted! Attached above is your first glimpse of the slated landing zone. We hope you and your lucky group of colonists are excited to complete the months-long one-way journey to
ASTEROID BM-720861i-809
to begin your new lives.
But first, we need a little bit of information. As part of our program, we offer one of three starting packages to equip your new colony. Do you hope to
build a better society
?
Make exciting new discoveries
?
Strike it rich and find your fortune
? GFP will outfit you with the things you need for success!
Please select the equipment that will be sent down with you to the landing zone: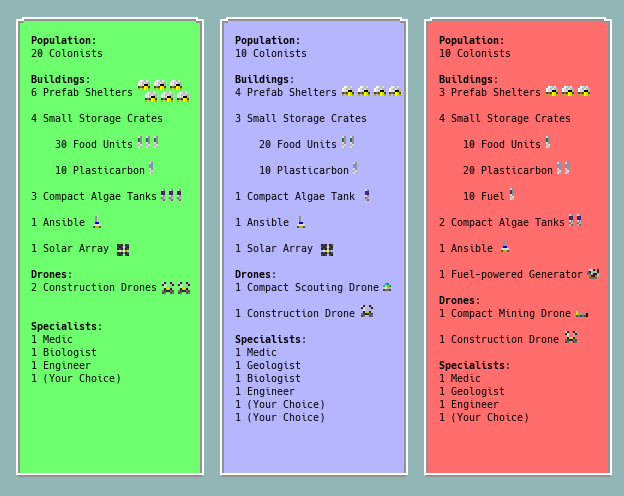 (Additional supply drops may be offered upon request, but are not guaranteed.)
For the more technical-minded among you, here is some extra information about the equipment offered:
BUILDING INFORMATION
DRONE INFORMATION
Whichever package you choose, please also register the professions of the additional specialist(s) you elect to bring with you. Once you've confirmed these details, preparation for your exciting voyage can begin!