03-22-2013, 11:33 PM
(This post was last modified: 03-26-2013, 12:38 AM by Lankie.)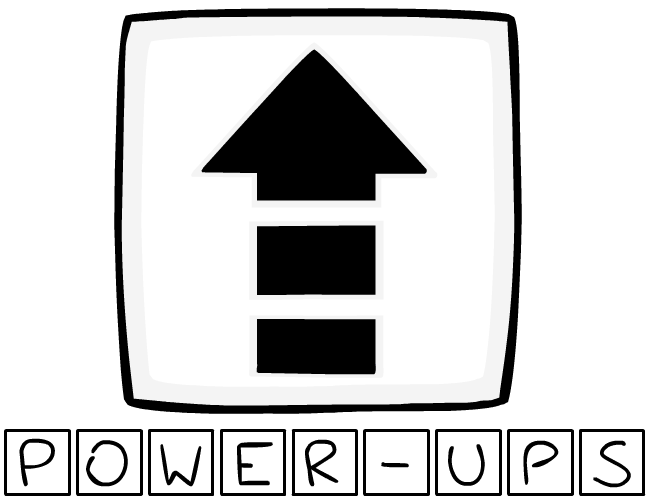 Hello this is a game called Power-Ups.

If you're not sure what this is you can check the original thread on the other forum to see what it's all about. This'll be a fresh start with more optimized fun times and, hopefully, me not being a massive scumlord and not updating for months on end.

SO ANYWAYS. Power-Ups is a fun little dungeon crawler type game where you are a blank state of a character. Everyone has has five active slots which you can put Power-Ups in to alter your character. They can range from stat boosts to spells to crazy shenanigans. When you level up those Power-Ups will lock in and you get a fresh five slots to put more Power-Ups in!

There is also the ability to mix and match Power-Ups with links for more fun times!



Here is an example of a character sheet. Everyone starts with super basic stats, five active slots and ten slots to carry around spare Power-Ups. You also come with a Inventory slot to carry around one time use items such as health drops, antidotes and other ammunition.

Now, BACK IN THE HALCYON DAYS Power-ups was pretty popular. So instead of a first come first serve basis which will bring chaos to the Eagle lands. There's going to be a mini competition of sorts to decide who's gonna take up the seven open player slots.

SO HERE IS A BUNCH OF POWER-UPS.



And here is what they do (going from left to right)


Now if you guys would come across these Ups while playing which 5 would you choose and why? When it comes to the Links you'll have to assume what they will make when combined with the other Ups.

I'll be looking for imaginative combos and all that. I know this seems a little essay-y and it's gunna suck being a judge but this seems like a fairer way than 'first people to see it get in'

Oh right and also give a name for your character. That's fairly important too.

So yeah if your interested take that little hypothetical Power-Up test and post it here. I'll decide who gets through a couple of days later. Hopefully this will be pretty fun! If you have any questions, feel free to ask away.

Players:
1: GenetiXientist as Ug-Grag
2: Ouroboros as Kellander
3: Qualien as Ralyk
4: Plet53 as Nathaniel
5: Schazer as Trout
6: ICan'tGiveCredit as Krawdrie
7: Not The Author as Jack