01-18-2015, 10:10 PM
(This post was last modified: 01-18-2015, 11:57 PM by Sai.)
For this Let's Play, I'm going to be letting you guys make most of the choices for the game.

Age of Wonders III is a turn based fantasy 4x game. Like most games of its genre, the player controls a leader unit and said hero's faction and then sets about conquering the world. While the game features preset campaigns and scenarios, these don't let us customize our hero, so we'll be playing on a random map.

When creating our hero, the first step is choosing our race. Race slightly modifies the attributes of our hero, and the race of each city determines the units that said city builds. Each race has the same number of units and these units all fill a similar role (cavalry, pikeman, etc). Race actually doesn't matter all that much in Age of Wonders, since whenever we capture a new city, we have the option of absorbing it into our empire which keeps the original population. Additionally, there are a number of neutral cities which we will be able to recruit into our empire either by completing quests for them, paying them while keeping good relations, or simply by conquering them. This makes founding new cities much less vital than other games in the genre, and also means that it's fairly easy to have a lot of diversity in our cities if we're so inclined. Of course, it's also possible to sack all of the cities and replace them with our own or 'migrate' another race to a city to change the types of units that it builds.

Going alphabetically, the first race is the Draconians. These are dragon-like humanoids with an affinity for fire. Most of their units have fire resistance natively, and their priests can grant a fire attack and even more (stacking) fire resistance to allied units.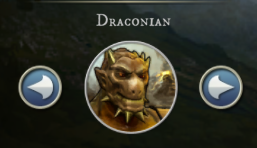 Next is the Dwarves. They fit most of the stereotypes for fantasy dwarves, with low speed, high defense, and a penchant for caves and mountains. Their melee units often have some resistance to ranged attacks to make them less likely to get murderzoned before ever reaching an enemy, and their priests and elite units are immune to fire.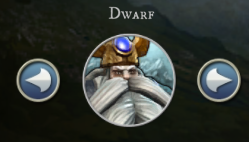 Next come the Goblins. These little guys are special in that most of their units deal Blight damage (which is basically poison), and they have units that can amplify this damage type. Keeping true to their tropes, Goblin units tend to be quick to produce and die quickly. If they survive the fight, Goblin units also heal more quickly when in swamps.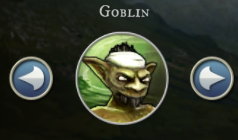 The Halfling race was added in one of the game's DLCs. Halflings deal the least damage in melee, and their units are also vulnerable to the ubiquitous physical damage. They make up for it with a 'Luck' special, which gives them a chance to avoid all damage that scales with their morale. I don't like them since they're fairly RNG dependent.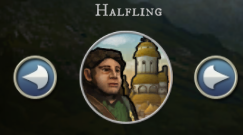 High Elves are so named because they are really tall or something, since there are no other elves. They also like trees. They are the only race with native access to lightning damage. Their units tend to be squishier and have no easy access to healing, so they rely on their mobility and ranged units to avoid taking damage altogether. In the campaigns, they are ironically ignorant, technologically backward, and xenocidal, but there's no reason for us to play them that way unless we want to.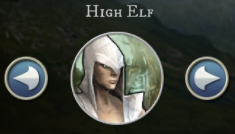 The manual says that Humans are a moderate race, with moderate mobility, damage, and defense, but I've found that to not be the case at all. Most of their units are armored, making them second only to the Dwarves defensively. Additionally, most of their units have the 'Mariner' special ability, which lets them board ships without using up all of their movement. This means that instead of having a native terrain bonus like the elves and dwarves, their preferred terrain is coastal areas. Their cavalry is very good too.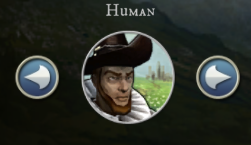 Finally, we have the orcs. They have the best melee units in terms of raw damage output, and their units have pretty decent health as well. Their melee units have a special ability allowing them to not lose action points when they counterattack or make attacks of opportunity, meaning that they are best against other melee units. They suffer from generally poor magic resistance and sub par ranged units.