09-03-2016, 08:15 PM
(This post was last modified: 09-04-2016, 02:02 AM by tegerioreo.)
Quote:Adler > Tell sergeant avogadro to pay no mind of the blissfully passed out ladies around him.
> Alder: "This, uh, isn't what it looks like"

"This isn't what it seems," I stammered nervously.
"Really?" Avogadro questioned. "It seems that you must have used some sort of arcane Irenaeid mojo to subdue and/or seduce two potentially dangerous Unseelie femmes."
"Oh. Well, I suppose this could be what it seems, then," I acknowledged. "Could you maybe not mention this to anyone?"
"I vill keep your secret only if you agree to use it on me again," SALV Chesswick whispered dreamily.


Quote:Adler, take a close look at the SALV in your arms. Find something unexpected.


I looked closely at the Ambassador as she raised her head and regarded me with a blissfully scheming expression. Hmm. I realized that without the monocle, she would actually be quite pretty ...


Quote:SALV chesswick is now addicted to (HRH Prince) Adler. Adler wonders if he's applying the touch right. Should they be getting addicted to him??
SALV Chesswick: From now on plot to kidnap HRH Adler Young for your personal use.
>How much trouble would you be in if you simply had everyone who inconvenienced you executed?

"I vill reqvire regular treatments," she explained with a sly grin. "Und you vill accommodate me, if you do not vish it published abroad zat you know der forbidden Viles und Bodymagick techniques of Desiderata. In fact, I zink it vould be best if you came mit me back to mine office, zo ve can discuss der matter in furzer detail."

Uh-oh. This was not good. I thought back over my Wiles training. Sheila na Gig never mentioned the

Orgasmic Touch

having such a spellbinding, addictive effect. Then again, she never recommended using it as a weapon in circumstances like these. I must have done something wrong. Blast it! Instead of solving my problem, I only changed its nature - possibly even made it worse!

Back in the old days of Irenaeus' reign, I could have simply ordered the execution of anyone who inconvenienced me, but now of course that wouldn't do. Elves had become too scarce to sacrifice wantonly, and besides; we needed to maintain diplomatic ties to Vulpitania. I kept reminding myself that the two thaumaturgists, Nidab and Semos, were here at the personal invitation of the King.



Quote:(Mara) After a brief, deeply refreshing nap, get up and find the Ambassador glomming on Adler.
(Mara) Fly into a mad, jealous rage.
(Ambassador) See the possum fly into a mad, jealous rage.
White Scuti, be too weak to take control over Mara's body.


While I was quickly wracking my mind for a way out of the SALV's clutches, and just about to decide on another application of the

Touch

, suddenly Mara Supial stirred and sat up.

"HEY!" she yelled, upon seeing the Ambassador and me in each other's arms. "Hands off my Prince, you hussy!"

"You vant a piece of zis?" SALV Chesswick replied menacingly.

"A piece? I'll take

all

of it, vixen," Mara growled. "Bring it on."

With a snort and a loud gekker, the Ambassador let go of me and lunged toward the opossum.


Quote:(Mara and Ambassador) Femme-fight.
(Avogadro) Be very embarrassed, but gamely try to report.
(Adler) Be embarrassed, but also a bit excited by the fight.
Ask him what what he has to report?


I quickly darted away from the scuffling femmes and shooed Sergeant Avogadro out the door into the hall.

"Trust me, you don't want to see this," I murmured urgently.

"Oh, I don't know, Your Highness," he replied. "It does have certain academic interest. A military elf can benefit from studying combat in all its forms..."

"OUT, Sergeant," I ordered. "Deliver your report in the corridor. What's this that you've found?"


Quote:Avogadro, come to report that you found another costume tail just laying around on the floor somewhere.

"Oh, yes, it's a false white skunk tail, very similar to the one I wore as part of my disguise earlier."

"Not the same one?" I asked, confused.

"It could be," Avogadro theorized. "I found it on the floor near the spot where the 'assassination' attempt took place."

"I'm going to use psychometry on it," I declared. "Keep watch and don't let anyone interrupt me."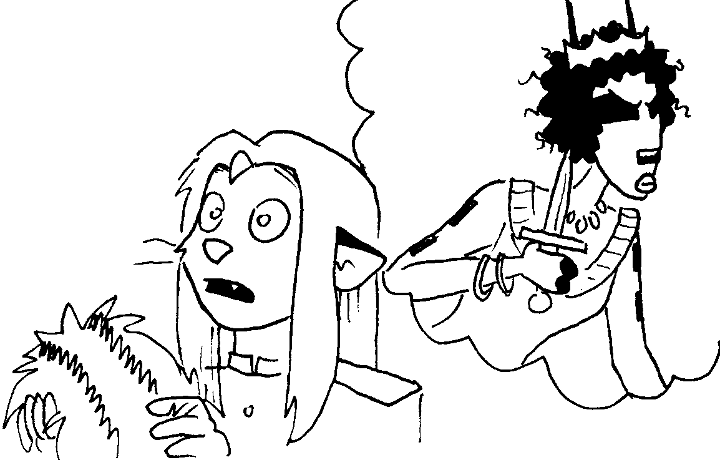 I held the tail and went into a visionary trance. I got a quick glimpse of Queen Edessa, brandishing a dagger and stepping on the tail - and then, nothing.

"It was the Queen!" I exclaimed, still partly in a daze .


Quote:(Adler) Remember, just when it gets interesting, that ixies wanted to report.


"Yes, that is what I meant to tell thee, Sire, before that vile Tailipo interrupted," an Ixie declared as I came out of my trance. "Minister Lynne learned that Her Majesty hath contracted Ixies to spy on thee, and wished me to inform thee of this immediately!"

"Uh ..." I replied intelligently.