Quote:(MacBroc) Pull yeself together, mon! Recall the ancient learning:
ALL IS HAM
Therefore, logicially, since that vast, fluffy white tail near you exists, it must be of ham. And if it is of ham, it is therefore delicious.
Bushy-tailed soldier, keep ranting loudly how a brutal and ruthless army should be run.
Macbrock: Realize that the munchies are going to add more meals onto the journey meaning your going to have to start raiding nearby peasants, but the peasants are too far away so your going to have to eat the grass, dirt, and rocks along the march. IT'S BRILLIANT!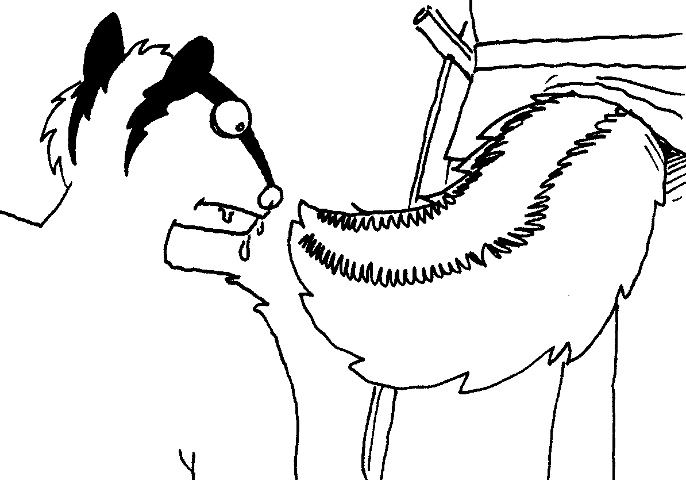 As the fluffy-tailed soldier continued ranting about his conquests, MacBrock began to stare with strange fascination at the energetically waving tail.

"I'VE HEARD IT SAID THAT ALL IS HAM," the badger rumbled dreamily. "WI' EEGHT MEALS TWIXT US AN' VICTORY, AN' ALL PROVISIONS CONSUMED, TWILL COST US A MEAL JUST TAE GO FORAGIN'. BOOT, IF ALL TRULY BE HAM, THEN ALL CAN BE EATEN! HOWAY, LADS, FUMA'S SAVED US, FOR WHATE'ER FITS IN OUR MOUTH IS FOOD!"


Quote:>Adler: Say, that ranting fellow over there seems to have a tail similar to yours. This can only mean one thing... He's a long lost cousin! Go and welcome him into the family with open arms!
>Estvan: Briefly look up from the bowl.
(Estvan) Start analyzing Thompson's dreams.

Listening to the ranting soldier, I began to realize that he was describing the exploits of Irenaeus. Something about his tail looked familiar ... then it dawned on me.




"COUSIN!!" I exclaimed, advancing toward the footsoldier with open arms.

"Begorrah, what is it you're after, boyo?" Estvan snapped from where he was crouching over Miss Thompson and the scrying bowl. "Sure an' I don't think that elf is any kin to ye at all, at all. Somebody stop Prince Adler! Sure, I can't analyze this floozy's dreams AND tend to a bedazed youngling at the same time. You there, raccoon, are ye not supposed to be mindin' him?"


Quote:>Burnside: The weed's influence makes you surprisingly mellow and kind hearted.
>Estvan: It is a sad day indeed when you, celebrated trickster and party animal, are the only sober person out of hundreds.
(Burnside) Become sad under the influence. Regret your Unseelie ways.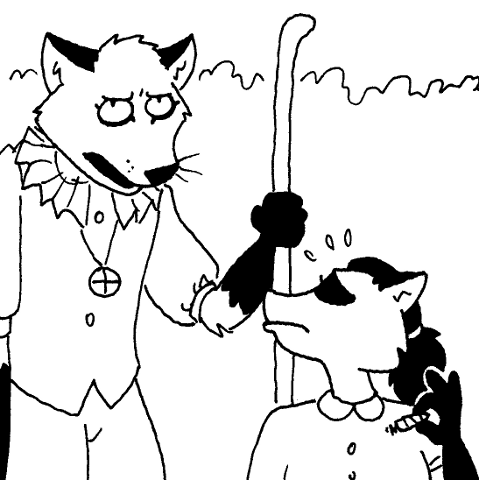 "Oh Mister Silverbrush," Burnside whined. "I been a bad girl! A real bad girl! Durn my Unseelie ways .. all the trouble I done caused .. I'm a-turnin over a new leaf."

"Cushlamochree," Estvan sighed. "Tis a dark day indeed when I, Estvan Silverbrush, am the only sane an' sensible soul to be found. Burnside, lass, would ye koindly toss that weedstick away an' go sit down somewhere quiet? Where's the other Floozy? Sure an' where's the naked buck?"

"Ain't seen 'em," Burnside sniffled.


Quote:>MacBrock: have a quick bite just to be sure.


At that moment, MacBrock bit the hectoring soldier's tail. The soldier froze, mid-sentence, and much to my alarm, his tail came completely off!

"It's a Scuti!" I yelled, suddenly clear-headed. "Spit it out, man! Spit it out and get away!!"

"Careful!" a mustachioed vulpine recruit yelled as he (she?) came running up. "Careful, these things can be dangerous. But I know how to handle them. If you'll allow me .."

The fox scooped the Scuti into a large jar and screwed the lid down tightly.


Quote:>The info Estvan got from Thompson is very useful. Maybe something about an ambush in those hidden tunnels earlier mentioned
Obviously fake mustache, be worn by somebody for comedic effect.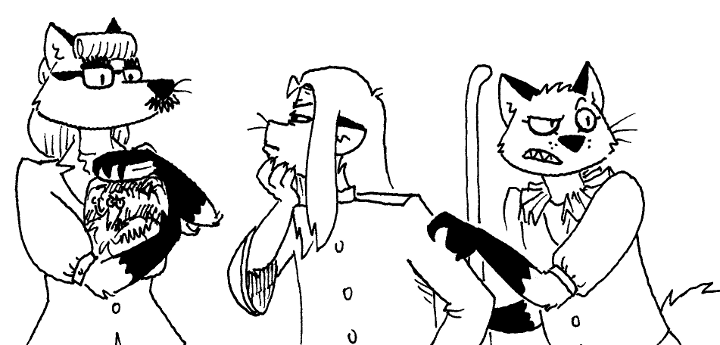 "You look maddeningly familiar," I mused, peering at the unknown fox. "Have we met before?"

"It's extremely unlikely that you would recognize me, Your Highness," he (she?) replied vaguely.

"Whisht, Adler, me boyo," Estvan hissed while tugging at my sleeve. "Best just leave the Scuti in the hands of that capable individual. Sure an' we've got to move. There's an ambush planned, accordin' to what I could make o' the Floozy's dreams. The secret tunnels lead to a trap, an' the longer we loiter here, the closer the Marshal can draw his nets around us."