06-12-2021, 04:14 AM
(This post was last modified: 06-23-2021, 07:37 AM by Cidellus.)
Wings of Fury 2



Welcome to Alma, a world of the branch filled with myths, monsters, and danger.

This is a time of heroes and legends, where Songs are sung of past and future.

How will you shape the world?

***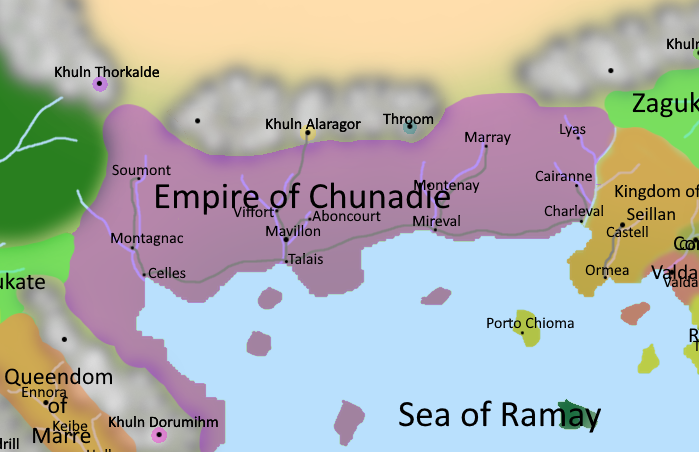 You are an adventurer working in the Chunard city of Marray, answering the call of the great dragonslaying knight Sir Henri de Montenay. Called the Red Thorn of Montenay, he is a renowned warrior of great valor, and seeks to slay the dragon Naissyri in the Giant's Tail Mountains. Naissyri has long been a threat to the region, consuming farmers and cattle alike, and many are the knights who have tried and failed to slay her.

Who are you?

***

Name: What is your character's name?
Species: What species does your character belong to?
Song: Is your character attuned to a Song? If so, which one?
Age: How old is your character?
Origin: What town, country, and world does your character come from? Feel free to go into detail if you wish.
Home: What town, country, and world does your character live in? Describe their home.
Appearance: A description of your character! Things like facial appearance, build, height, eye color, hair color, fashion sense, scars, tattoos and whatever else you'd like to include.
Personality: Your character's personality. This might include their fears, ambitions, tendencies, habits, and whatever else.
Biography: Your character's history! The more detailed, the better! Whatever you want to include to flesh out your character's past and how it shaped them into the person they are today.
Important Skills: What skills does your character possess?
Important People: Include immediate family, as well as any important friends, family, or other NPCs you wish to have in your backstory. Make sure to include whether or not they are a Song user, and which Song if so.
Inventory: Any important items and keepsakes.


***

I have included a ton of information on the setting in the codex. Links to that will be on the Wings discord channel.

This will be a play by post game similar to Masks and the original Wings, where most of the action ends up happening in individual PMs. It should be noted that this is not a DIRECT sequel to Wings of Fury 1 on the Chocolate Pi forums. It is a spiritual successor with the same sort of idea.